Basement Development in Calgary | Urban City Builders, is a longstanding local company in Calgary that specializes in basement developments. Urban City Builders prides themselves in having high-quality and trustworthy tradespeople involved in all of their projects and firmly believes in taking a quality over quantity approach to business
The number one question that is commonly asked when Urban City Builders is approached to quote a Calgary basement development is "why should we choose your company?" 'Short put, because they care'; you deal directly with the owner and his project manager throughout the duration of the project. Their tradespeople are reliable and respectful; honest and vetted by Urban City Builders. Most of their trades have worked with them since they started. With the large influx of home improvement projects on the rise in Calgary, the market has become saturated with pop-up companies. These popup companies lack the experience and expertise in the construction industry and they do not have strong trade partner relationships in place. It's common for these companies to go with the lowest quotes provided for sub-trades, resulting in subpar results.
Another common question is 'why is your estimate higher than other contractors?' Urban City Builders only use certified, skilled sub-trades that produce the best-finished product. It is common for new companies to take on projects with the promise that the work will be completed in-house by their labourers; the experience isn't there and the work is not always quality. Urban City Builders pricing is competitive with the other long-standing basement development companies in Calgary that offer a similar practice.
A problem that is seen as an ongoing concern is deposits upfront. One way to safeguard your hard-earned cash is to ask your contractor for proof of bonding insurance. Bonding insurance requires the contractor to meet specific criteria by the insurance company; what this means is that your deposit is protected and insured in the case the work is not complete.
An example of this can be shown by Kenton, owner of Calgary's River Meadow Woodwork. When looking to complete work on his home he evaluates a list of requirements a company must have, these include:
How many years have they been in business?
Do they hold bonding insurance?
Is there a gallery of photos of recent projects?
Do they have strong referrals from past clients and good reviews?
What is the timeline quoted to complete the work? Being able to start the next day is a major red flag.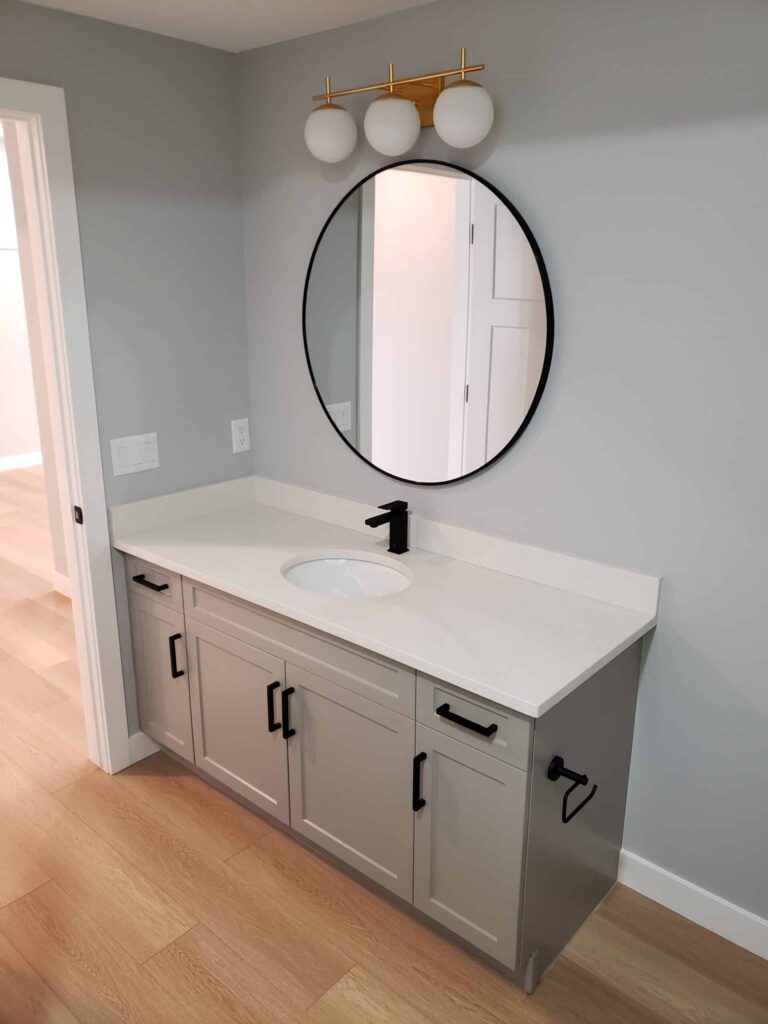 We are in an age where everyone is showcasing who they are and what they do on social media and other platforms. If job photos cannot be provided or presented on an existing website Kenton stated that he would be a "little bit concerned." Kenton also noted that he would steer clear of the lowest bidder.

"In my experience there are people out there that really know how to sell themselves, yet they don't have the experience. Companies can start-up in a relatively short amount of time. Advertising that they can do certain services, without really knowing much about the required scope of work"
The end result? You are left with an expensive bill for substandard materials and low-quality work. Unfortunately, Urban City Builders has experience in this. They receive phone calls regularly asking what it would cost to have them come in and fix what a previous contractor started. The cost is higher because rework is sometimes required. Permits may not have been pulled, so you must show inspectors that the work was completed correctly. This sometimes results in full demolition as drywall has been completed, covering up what needs to be inspected. So essentially you're paying to do the job twice. Popup companies get in over their heads and sometimes will leave mid-job.
"The biggest thing is having somebody that is knowledgeable in their house," says Justin, the owner of Urban City Builders. "A reputable builder/contractor has all of their credentials in order and is happy to provide them to their clients; any reluctance or hesitation from a company to provide such documentation should be a red flag."
Owner Justin and his project manager, Shaun have an extensive amount of experience in the home building industry with skills that complement one another in a way that allows them to operate as a highly effective team. Justin has over 15 years of new home construction experience with some of Calgary's top builders, and Shaun worked several years as a supervisor for some of the large Calgary-based new home builders.
As they have many years of construction and project management experience, they can direct you as to what is feasible for your renovation and what could compromise the structure of your home. It's important to know that removal of support beams is common (because they're unsightly, they get it!) – but it will greatly affect your home structure in the long run. Trust them, they've seen it all!
We decided to get in touch with a local plumbing and supply company that assists Urban City Builders with the supply of fixtures for their builds.
We asked Mark what kind of working relationship he has with Urban City Builders.
Mark responded:


"We supply them with all the plumbing products that they need to complete their jobs and it has been a pretty good relationship so far. They usually contact us about once a week".
We also asked Mark what sort of challenges might arise from not having a competent supply company like Canyon Plumbing and Heating involved in a basement development project.

"You can run into lower quality products, all of the products we use are contractor grade. It's not a big box store product so the product itself is of a higher quality. Availability as well, we try to make sure we stock a lot of products so that they can get it quickly and easily and make it available to our contractors."
"With the supply chain being the way it has been, it is definitely a perk being able to hold onto inventory."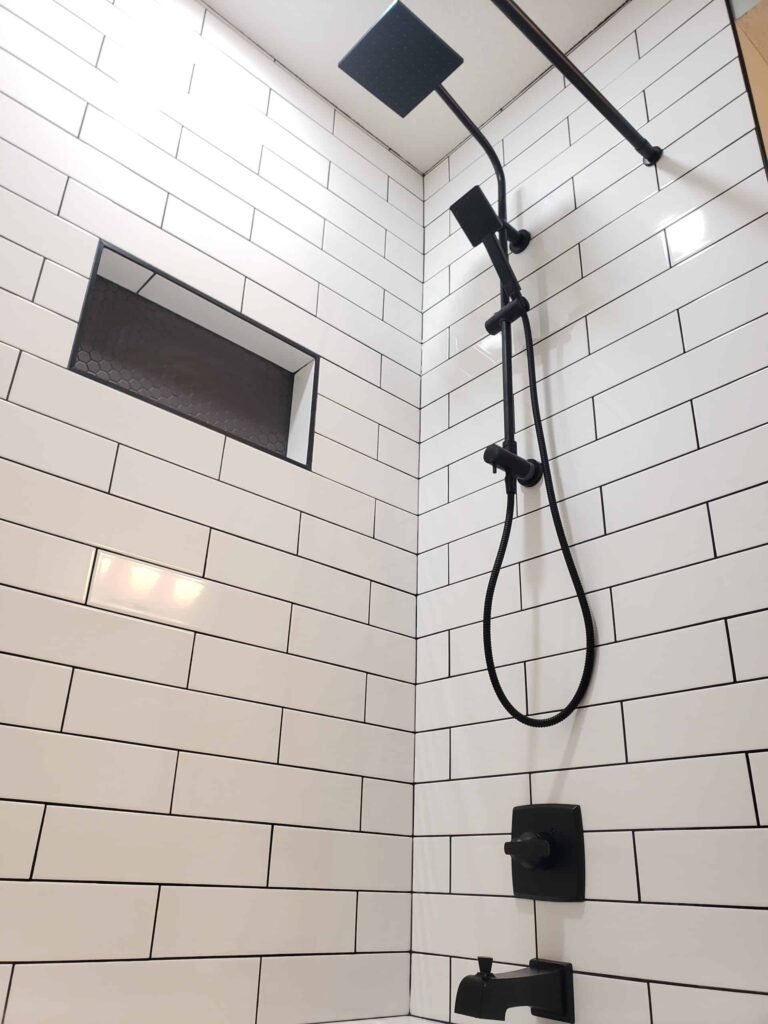 There are so many moving parts to a successful basement development. A delay in materials due to not having relationships with local supply companies can result in major delays to your project. With a reputable company like Urban City Builders and their deeply rooted supply chain partners, you won't have this to worry about.
When it comes to estimating a new project, the team likes to take a hands-on approach, visiting the site in person gives them a greater visual when assessing the level of work that has to be done. Most importantly, they provide thorough communication with you about timelines and recommendations they have along the way.
With new home builds, a basement renovation project can be kicked off by requesting the foundation plan from the homebuilder. This speeds up the process for the initial plan provided to the client. From there, Urban City Builders visits the site to confirm measurements, ceiling heights, etc. and a formal quote follows along with a set of proposed plans.
Free estimates are provided accompanied by drawings illustrating what your Calgary basement renovations layout will consist of. The average wait time for an estimate is usually 3-5 business days.
The company also offers a base package to choose from on their website, this includes the standard offerings. You may choose to include unique feature add-ons that personalize the space and complete your Calgary basement renovation. Add-ons such as wet bars give you a space for entertaining guests; making sure your beverages are kept cold, and providing a nice space to prepare a drink. Home theatre rooms with drop-down projection screens provide an extra living space for you and the family to enjoy during movie night. Upgraded heated bathroom flooring makes stepping out of the shower in our cold winters a little more manageable. Really, you have an idea, bring it and they can make it happen. Simply ask the team and they will do their very best to accommodate any of your preferences.
In summary, you work hard for your money and extending your living space is a big project. Sourcing a reliable contractor that aligns with your vision requires a little research before completing your Calgary basement renovations.
Check their website, social media platforms and their client reviews to give you a good sense of the work they complete. Take the time to schedule in-home estimates so that you can meet the individuals who will be in your home. Have some examples of the look you're going for as well as knowing your budget. Be open and honest with the company as to what you would like to spend. This allows them to come up with a quote that meets your budget as well as any add-ons you would like to see. As Urban City Builders has extensive experience in the building industry, they can provide you with recommendations that fit what you're looking for: leaving you and your family with the best-extended living space.
Urban City Builders is a well-known, honest and reputable local company. At the end of the day, they strive to see quality and excellence in the homes of Calgarians. The smiles from happy homeowners, that come along with a great extra living space, are always a bonus.